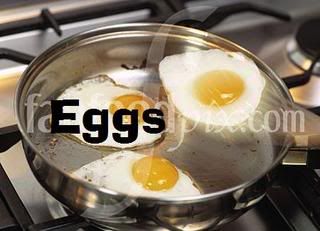 In a recipe, replace Eggs with:
1 Tb of Arrowroot powder and 3 Tb of water (per egg)
Egg reactions may occur the first time a child is given an egg. Although ovalbumin, ovomucoid, and ovotrans-ferrin have been identified as the major allergens in egg white, other unnamed allergens of lesser importance have been identified. These allergens are also present in egg yolk, but in lesser quantities.
Hens egg Iysozyme is used as a preservative in food; and in some countries (Japan and Switzerland), Izozyme is used in medications. Individuals sensitive to hens egg have been shown to be allergic to Iysozyme produced from the hens egg.
Legislation may permit a manufacture not to list an ingredient constituting less that a specific percentage of the total product. (A similar problem may occur when egg white is used to give baked goods their shiny appearance). Egg proteins are also found in cosmetics, shampoos, and pharmaceuticals, such as laxative Agarol.
People that are allergic to eggs should not buy food items that are cooked on the same surface of a food that has been cooked in the ingredient you are allergic to. It has also been suggested that duck egg can be substituted for hens egg-sensitive individuals. (These individuals should be able to tolerate cooked chicken).
Labels that may indicate the presence of egg protein:
albumin
binder
coagulant
egg white
egg yolk or yellow
emulsifier
globulin
lecithin
livetin
lysozyme
ovalbumin
ovamucin
ovamucoid
ovovitellin
powdered egg
vitellin
whole egg.